« Back to News & Notices
Lloyd Rave Awarded with Carroll Anderson Memorial Award by the South Dakota Association of Rural Water Systems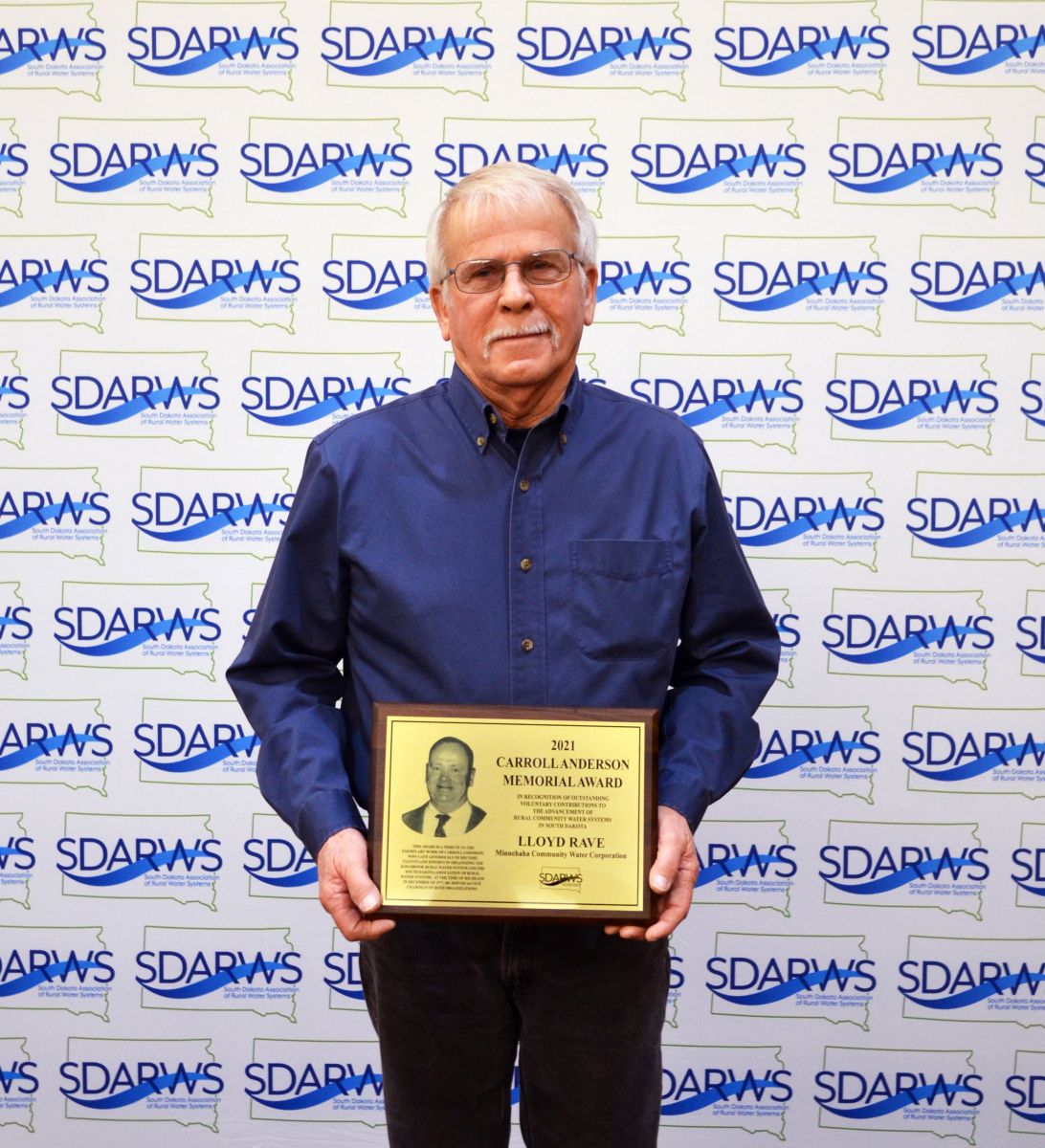 The South Dakota Association of Rural Water Systems (SDARWS) recently named Lloyd Rave, President of the Minnehaha Community Water Corporation (MCWC), with the Carroll Anderson Memorial Award.
The Carroll Anderson Memorial Award is a tribute to the dedicated work of Carroll Anderson, who gave generously of his time, talents, and efforts to the Kingbrook RWS and the South Dakota Association of Rural Water System. At the time of his death in December of 1977, Carroll Anderson served as Vice-Chairman of both organizations. The award represents the greatest tribute our association can bestow on an individual to recognize their contributions to their member system and South Dakota Rural Water. In recognition of outstanding voluntary contributions to the advancement of rural community water systems in South Dakota, this award has been presented to a very elite group of people.
Rave is a second-generation rural water board member. His father, Art Rave, was an original MCWC board member and served from 1976 to 1987. Rave joined the MCWC board in 1987 and has been a board member for 34 years. He was voted into the board president role in 2009, where he has been for the last 13 years.
When Rave was elected president of the MCWC board of directors, he also became the system representative to the South Dakota Association of Rural Water Systems. He has been on the State Association board for 13 years. More recently, he was nominated by Governor Daugaard to be the rural water representative to the South Dakota One Call board.
As a retired farmer, Rave understands the importance of rural water to South Dakota. He clearly remembers the improved quality of life when his family farm was connected in 1977. He has always been very forward-thinking when it comes to system planning and knows how often MCWC has done projects to bring additional water to areas that were seeing constant growth.
As MCWC and Big Sioux Community Water System embark on a joint venture to develop additional wells, treatment, and distribution capacity, the two systems will benefit from Rave's experience and leadership in the rural water industry. He has recently been voted in as chairman of the new company, Shared Resources, Inc.
The South Dakota Association of Rural Water Systems is a non-profit membership organization dedicated to enhancing South Dakota's water and wastewater industries by providing training and on-site technical assistance. As a member-driven organization, SDARWS is financially supported through its membership dues and grant programs. Membership is open to all organizations and individuals associated with our industries.